Blended Learning Strategies for the Classroom Series
Combine Traditional Teaching with Online Strategies to Optimize Student Success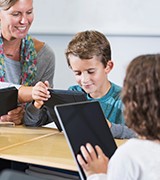 With the return to in-person learning after several months of being fully remote, it is time to reassess how you deliver your curriculum, and consider the blended learning approach. Blended learning includes both traditional learning, face-to-face and online components that rely on technology, making learning more flexible, engaging and effective! These courses will equip educators with effective strategies and best practices for designing and delivering instruction that includes online components for all learners. The wide variety of courses will teach participants about managing the day-to-day responsibilities of full or partial online teaching and learning, collaborating with parents, keeping learners safe and engaged.
Who Should Attend
This series provides continuing education for K-12 educators, administrators and any other interested stakeholder, wanting to learn about and understand how to effectively support student learning with a blended learning approach.
Learner Outcomes
Prepare and plan for adding technology supported teaching and learning

Manage the day-to-day responsibilities with blended learning teaching

Identify the best digital resources available to meet the learning needs of students

Share information and lessons with parents and students in a safe, organized manner

Develop and implement an optimized blended learning curriculum
Benefits of USD's Blended Learning Strategies Series
Participants in the Blended Learning Strategies Series can expect the following benefits:
Leverage the use of technology to create on-target motivated learning that enhances face-to-face learning
Create a versatile classroom that allows for flexible and adaptive learning
Multiple courses that all offer instruction on different perspectives to develop and manage blended learning for all students
Remote Teaching Strategies Course Curriculum
EDU-X713P Transitioning to a Blended Learning Environment: Learn how to make the transitions that best fit students and teacher needs in the blended learning environment
EDU-X718P Learning Readiness with Basic Google Tools: Introduces educators to basic Google tools, allowing them to become more comfortable and confident to effectively and efficiently implement them in their teaching.
EDU-X745P Utilizing EdTech Tools and Social Emotional Learning (SEL) to Enhance Lessons in the Classroom: Build social-emotional skill with technology integrated into lessons and learning.
EDU-X706A Best Practices in Technology Integration: Learn and explore new technologies to make informed decisions for designing curricular activities and assessments.
EDU-X798O Supporting Learners with Google Classroom: Explores the newest layer to the Google family, Google Classroom.
EDU-X782J Flipping Classroom Instruction with Technology: Review the research behind the flipped model of learning, understand student-centered learning and explore the tools needed to implement this process in your educational environment.
EDU-X783J Technology Tools for Enhancing Instruction and Empowering Students: Explore a variety of technology tools and learn strategies for utilizing technology to enhance instructional practices and empower students.
EDU-X781L Chromebooks in the Classroom: Learn the exciting and best ways to use Chromebooks in the K-12 classroom.
EDU-X748R Expanding Your Professional Learning Network through Social Media: Introduces how to experience social media as a connected educator, to rethink digital identities, and to utilize good networking practices for communication and sharing.
EDU-X782L Introduction to Instructional Design for Educators: Learn new and innovative design tools and strategies needed to maximize student achievement and engagement.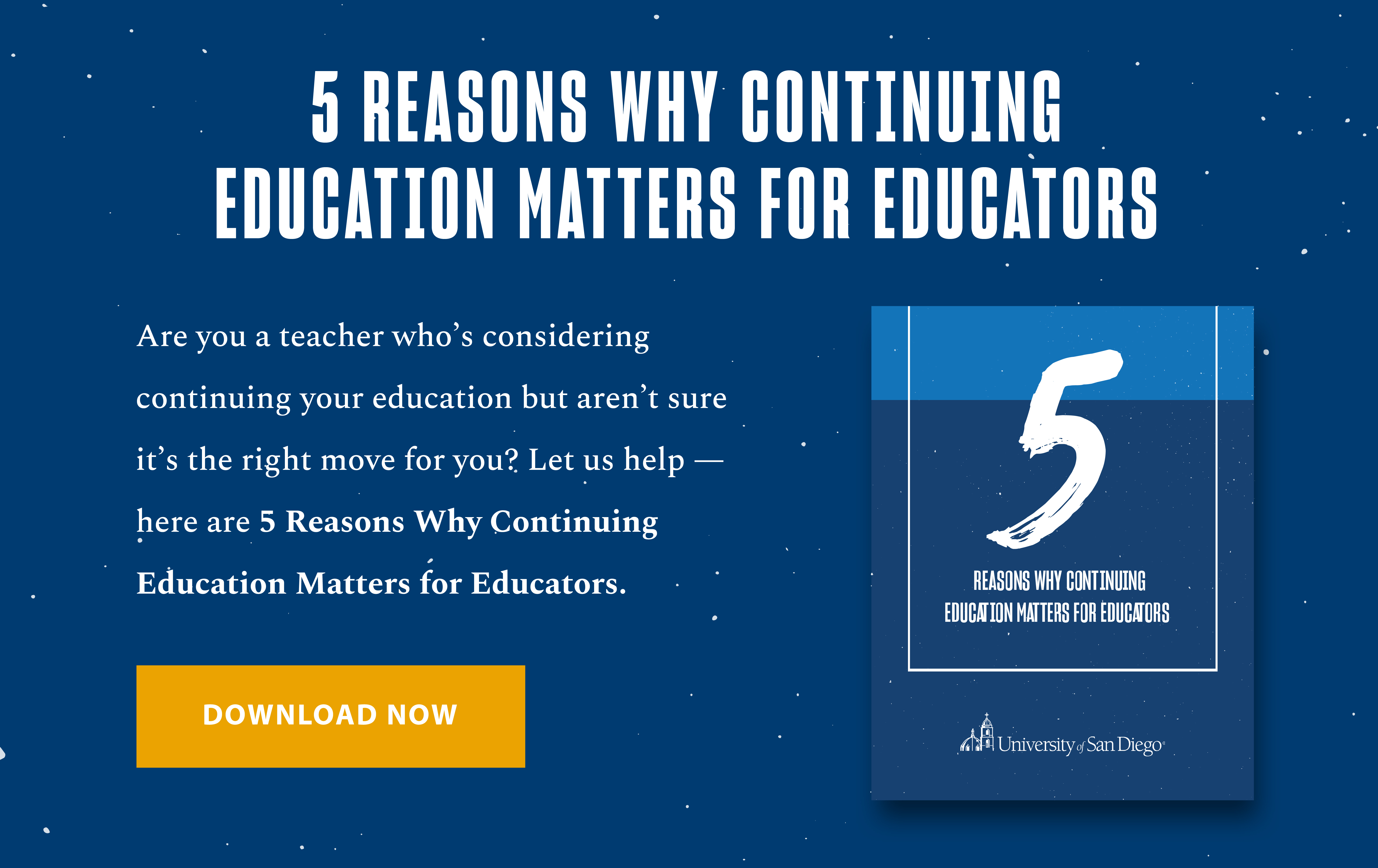 Course Requirements
Course Materials: Textbook requirements vary by course. Please check the specific course pages for requirements, if there are any.
Experienced Faculty Instructors
Tiffani Brown, M.A. in Teaching and M.A. in English Literature and Film Studies, is an educator with over 15 years of experience in the public-school system. Tiffani is the Director of Instructional Technology in the Grossmont Union High School District. She has also served as a Vice Principal in the Santee School District. Tiffani is a Google Apps for Education Authorized Educator and Certified Trainer, and the Vice President of San Diego CUE. Her areas of passion and expertise include personalized learning, student choice and educational technology.
Matthew Evans, M.Ed. with a focus on Educational Technology, authorized Google Education Trainer, is an experienced educator, currently providing professional growth courses for the University of San Diego to hundreds of K-12 teachers. Matthew's emphasis in the classroom is teaching technological skills that students can use as they enter the workforce. He consults with schools and districts on the implementation of Google Apps for Education (GAFE), training teachers and staff how to use GAFE to its fullest potential.
Rick Selby, M.S., is a national staff developer for educational technology and Common Core curriculum. He is currently a high school history teacher at Scripps Ranch High School in San Diego, in one of the nation's largest urban school districts. He has been an educator for over 20 years and is a certified Microsoft Innovative Educator.
Accreditation
USD's Division of Professional and Continuing Education is accredited by the Western Association of Schools and Colleges – Senior College and University Commission (WASC). Additionally, University of San Diego is ranked among the Top 100 U.S. colleges and universities by U.S. News and World Report.
Online Learning Information
We understand that educators today are extremely busy and finding time to fit in professional development can seem impossible. That is why our Blended Learning Strategies in the Classroom Series is designed in an Online Self-Paced format. In this format, class participants will have six months from enrollment to complete their coursework, at their own pace and at the times that work best for them.
Additional online learning information to be aware of includes:
You can go online whenever is most convenient, completing your course within six months from enrollment
As long as you have access to the Internet (and any required textbooks, if applicable), you can complete assignments
You'll read articles and watch videos, and interact with resources provided within courses
Completed assignments are submitted and then evaluated by your instructor
Instructor interaction and feedback are provided between assignments
Testimonials
"My experience in EDU-X718P [Remote] Learning Readiness with Basic Google Tools was everything I could have hoped for and more! This class gave me the basics in Google Tools that I did not have much experience with in the classroom. After taking this course, I will be able to engage my students with enhanced lessons making instruction fun, not only for my students, but for me as well. Furthermore, by taking this course, it will allow me to prepare content that my students will have access to at all times and they will be able to work with at their own pace." -- Ryan Yamashiro, Educator, Pomona, CA
"After completing this course [EDU-X718P], I feel more confident in using Google Meet and Screencastify to enhance student learning during distance learning. I can't wait to implement what I have learned and to share my knowledge with my students and teammates. I would recommend this course to any educator who is looking to use Google apps and extensions more efficiently and effectively." -- Linda Lam, Educator, CA
"The knowledge I have gained from this course [EDU-X718P] has equipped me with so many tools that I can utilize with my students moving forward whether instruction occurs remotely, via a hybrid model, or if we return to the traditional on-site model of teaching. Finally, I have gained a lot of confidence in my technology skills. Instead of having to ask my peers for support, hopefully they will ask me!" -- Teresa Norton, Educator, Madera, CA
"In the current age of distance learning, this course [EDU-X798O] was what I needed to learn how to use Google Classroom as my LMS. I had never really used it before, and we are using it daily now for direct instruction with our students." -- Dennis Johnson, Educator, Fallbrook Union School District, Fallbrook, CA
Blended Learning Strategies in the Classroom - Frequently Asked Questions (FAQs)
Do I need to be technology or Google savvy to take these courses?
USD recommends that if you do not have experience with basic Google functions and tools available, that you begin with either EDU-X718P or EDU-X772M. We recommend that you view each course description to see what tools are covered so that you can determine which course is appropriate for you to start with.
The instructors who teach our Blended Learning Strategies in the Classroom Series courses are accustomed to teaching students of various levels. They are available to assist throughout the course and will help you through the learning process.
My school has gone back to in-person classroom teaching. Is there still value in taking these courses?
Yes, the tools and skills learned can be for combining traditional teaching with technology-based learning activities and lessons. Many of the skills and technologies learned can be implemented into your curriculum to promote learning. Being prepared with a blended learning curriculum will allow you and your students to easily transition to and from the classroom, if needed.
How do I keep my students engaged while teaching?
EDU-X745P, Utilizing EdTech Tools and Social Emotional Learning (SEL) to Enhance Lessons in the Classroom explores ways to reach and motivate your students in the blended learning environment.
I want to convert some of my curriculum to asynchronous learning format, what course would help me do this?
EDU-X782L, Introduction to Instructional Design for Educators, provides an opportunity for you to create strong well-designed curriculum using the backward design format.
I've heard about the flipped learning concept and want to learn more about it and how I can convert some or all of my curriculum?
EDU-X782J, Flipping Classroom Instruction with Technology is a great start with this concept that lends well to blended learning teaching.