Gain the Skills You Need to Thrive in the Nonprofit Industry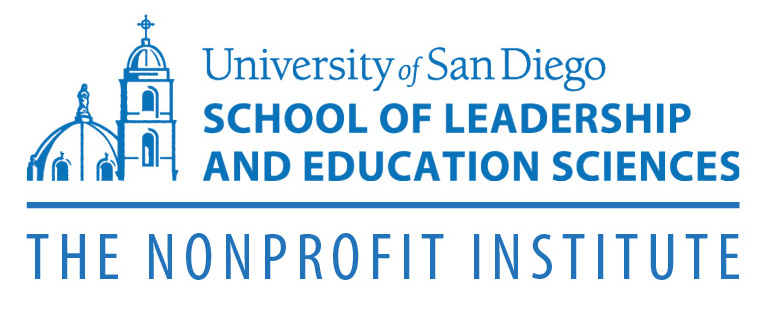 Our online Nonprofit Management Certificate program is designed to help you build the professional and practical skills and knowledge needed to support the sustainability and growth of nonprofit organizations.
Offered by the University of San Diego's Division of Professional and Continuing Education in partnership with the university's highly regarded School of Leadership and Education Sciences, Department of Leadership Studies. This multi-course certificate program provides a high-quality learning experience focused on the following essential areas:
Fundraising
Managing nonprofit teams
Attracting/retaining volunteers
Building effective boards
Marketing and much more
Who Should Attend
Taught by experienced faculty instructors in a convenient and flexible online format, the courses in this research-based nonprofit management certificate program are ideal for:
Experienced nonprofit sector employees
New or aspiring nonprofit sector employees
Professionals transitioning to the nonprofit sector
Current or prospective board members
Experienced volunteers
Those looking to engage in volunteer work
Benefits of USD's Online Nonprofit Management Certificate Program
Here are some of the most compelling reasons to enroll in the University of San Diego's Nonprofit Management Certificate program:
Improve your ability to champion a cause
Increase the likelihood of campaign success
Build a productive board that can help lead your nonprofit to the next level
Recognize internal controls, implement fund accounting best practices, and develop effective financial tools and budgets
Build your organization's brand with marketing strategies designed to differentiate your organization and boost brand awareness
Make an even more significant positive impact in the community that you serve
Earn a national nonprofit credential in conjunction with this certificate program. Students completing the USD Nonprofit certificate program are eligible to obtain a national credential from the Nonprofit Leadership Alliance (NLA) with this program.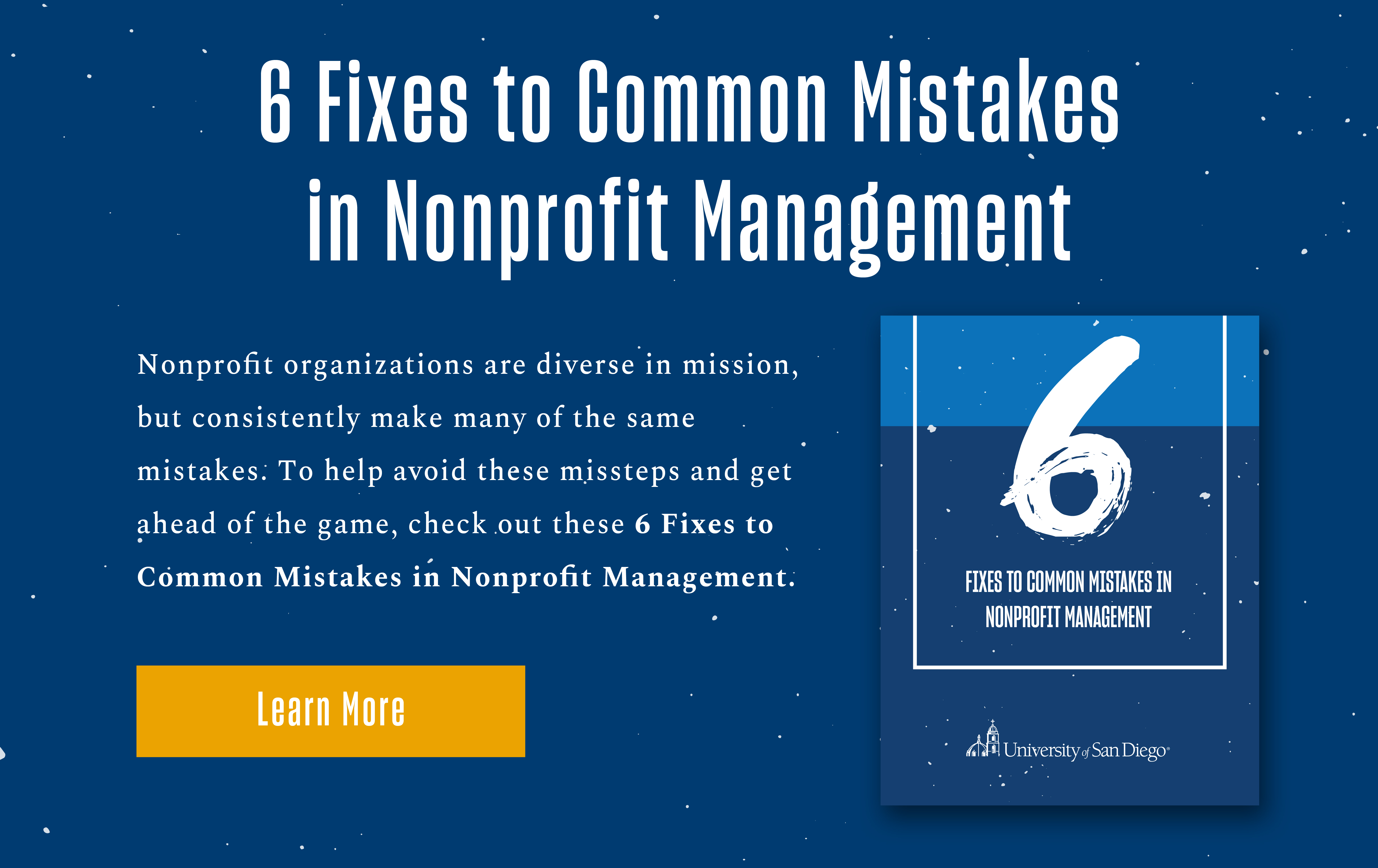 Schedule and Fees
Nonprofit Management Certificate Program Curriculum
The Management Certificate Program consists of eight online "fixed date" courses spanning the full spectrum of the nonprofit management experience. All eight are required to earn your certificate, however, the courses may also be taken individually:
Certificate Requirements and Fees
To earn a professional certificate in Nonprofit Management, participants must:
Complete the eight required courses (course fee: $299 per course)
Complete all coursework with a final grade of C or better
Submit a one-time certificate fee of $45
Learn more about the University of San Diego's Professional and Continuing Education Certificate Benefits and Policies.
Nonprofit Job Market and Career Outlook
Data released by the U.S. Department of Labor's Bureau of Labor Statistics and the Johns Hopkins Center for Civil Society Studies shows the nonprofit sector to be a "reliable contributor to job growth" during productive as well as challenging economic times.
According to the Johns Hopkins report, the nonprofit sector continued its steady record of significant job growth; between the pre-recession year of 2007 and 2016, nonprofit employment grew by nearly 17%.
Nonprofit organizations are "America's third largest employer," behind only retail trade and manufacturing, according to PhilanthropyNewsDigest.com. Additional insight into the state of the nonprofit sector can be found in the annual report published by the University of San Diego's Nonprofit Institute.
Certified Nonprofit Professional
Students enrolled in USD's Nonprofit Certificate Program have an opportunity to obtain a national credential from the Nonprofit Leadership Alliance (NLA), whose mission "is to is to strengthen the social sector with a talented and prepared workforce" (Nonprofit Leadership Alliance, 2015). The University of San Diego is 1 of the 40 colleges and universities within the Alliance's network. The Certified Nonprofit Professional (CNP) credential is the only national nonprofit credential preparing undergraduate, graduate and professional students for careers in management within the nonprofit industry. In a recent study conducted by LinkedIn, the world's largest online professional network consisting of 313 million members in over 200 countries and territories.
Learn more about the requirements and how to register by contacting us at pce-bus@sandiego.edu
Experienced Faculty Instructors
Our instructors, most of whom hold advanced degrees, are experienced practitioners and subject matter experts who engage each student in a stimulating and participative learning environment. Meet a few of your Nonprofit Management Certificate program instructors:
Rick Dahlseid has unique expertise in the nonprofit sector, having served as Chief Financial Officer for the past 14 years in the areas of healthcare, human services, ecology, children's initiatives and affordable housing. A Certified Public Accountant with a master's degree in Taxation, he is also an instructor with the Nonprofit Academy, an award-winning partnership between the City of San Diego and The Nonprofit Institute at the University of San Diego.
Joshua Nunn is currently the Association Director of Marketing for the YMCA of San Diego County, overseeing the nonprofit charitable organization's marketing for four YMCA branches. Joshua, who earned his bachelor's degree in English Writing with minors in marketing and multimedia from Viterbo University in Wisconsin, is an experienced nonprofit marketing professional who has also worked as both an employee and consultant for nonprofit sectors ranging from the military to education.
Leslie Hennessey has a Ph.D. in Leadership Studies with an emphasis in nonprofit leadership. She has served on various nonprofit boards and worked for more than 25 years as a senior executive of a for-profit company that produces and sells products globally.
Frequently Asked Questions (FAQs)
Do courses need to be taken in sequence?
No, courses can be taken in any sequence. If you are new to nonprofit management and/or are pursuing a certificate it is recommended to begin with MGT-X800 Overview of the Nonprofit Sector.
How long are courses?
Each course is four weeks in duration, and courses are taught in an Online Fixed Date modality. Learn more, here.
Can I take more than one course at a time?
Although students are able to take multiple courses concurrently, it is recommended for students to begin with one course to best gauge personal time management.
How much time should I set aside for each course?
Students are encouraged to set aside 8-10 hours a week toward their coursework. Most students have found setting aside 12-15 hours the first week has helped in becoming better acclimated with the online learning platform.
When should I pay for the certificate fee?
It is recommended to pay for your certificate fee upon your first course.
Do you accept third-party funding options?
Yes, this program is approved by the following third-party funding sources:
The Military Spouse Career Advancement Accounts Program (MyCAA)
California's Eligible Training Provider List (ETPL)
For students using third-party funding, please contact Enrollment and Student Services at continuinged@sandiego.edu or 619-432-3790 to begin the registration process. Please have your funding source details readily available.
Accreditation
The University of San Diego's Division of Professional and Continuing Education is accredited by the Western Association of Schools and Colleges (WASC).
Testimonials
"A fantastic overview for those in or looking to enter the nonprofit sector."
— Stephen Aherne
"It was informative and covered a broad spectrum of content. It was also helpful to have mandatory interaction with peers in the class. There were several modules that educated me on issues I was not currently aware of."
— Jennifer Bradford, Director of Operations, Moonlight Cultural Foundation
"As a financial professional curious about the nonprofit sector, this course was exactly what I needed to understand a nonprofit organization. … There is so much useful information, regardless of your current career path or if you are debating on making a change. The information presented is very clear and concise."
— Bridgette Loya
"This course covers nonprofits in-depth. A good course to take for anyone who is looking into starting a nonprofit."
— Lourdes Abad, HR administrator
"Great instructor with a great personality and attitude. Very willing to help all students, patient and understanding and clearly demonstrates superior knowledge in the subject matter."
— Arlana Kerigan.
"I really appreciate [the instructor's] comments and feedback on discussions and assignments. Her command of the material provided insights into board responsibilities and recruitment."
— Teofilo Vizon, volunteer caseworker
To enroll in the Nonprofit Management Certificate program or an individual course, simply click on one of the courses above to get started. Questions? Contact Us.